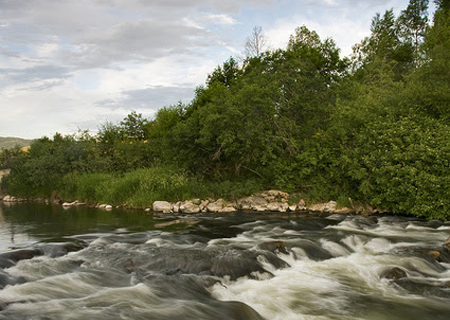 Riparian areas are zones where terrestrial and aquatic ecosystems directly interact with each other. They occur around numerous types of waterbodies including rivers, lakes, and springs. Similar to wetlands, riparian areas provide numerous benefits to society but a few of the most important of these include wildlife habitat area, hydrologic recharge areas, and water quality improvements.
Related resource topics for county planning include:
Map of Data
| url | useLayers | startVisible | rasterName | imageServer | resourceReference | DisplayOrder |
| --- | --- | --- | --- | --- | --- | --- |
| https://maps.dnr.utah.gov/arcgis/rest/services/DWR/WRI_Treatment_Areas/MapServer | 3,2,1,0 | y,y,y,y | | | ref-RiparianAreas | 3 |
| http://services.nationalmap.gov/arcgis/rest/services/nhd/MapServer | 14,13,11 | y,y,y | | | ref-RiparianAreas | 2 |
| http://107.20.228.18/arcgis/rest/services/Wetlands/MapServer | 0 | n | | | ref-RiparianAreas | 1 |
LAYER NAME TRANSLATION (alphabetical)
Completed= Completed projects within the Utah Watershed Restoration Initiative (UWRI).
Current= Current projects within the Utah Watershed Restoration Initiative (UWRI).
Pending Completed= Pending Completed projects within the Utah Watershed Restoration Initiative (UWRI).
Proposed= Proposed projects within the Utah Watershed Restoration Initiative (UWRI).
SGID10.WATER.Wetlands= NWI wetlands published by the Utah AGRC.
Download mxd The ESRI mxd file of the services used to create the above map.
Resource Information
Riparian areas are important for many reasons. They act as buffers by intercepting or diluting pollutants and sediment before they reach the water. Riparian areas play an important role in erosion processes by slowing water and stabilizing banks. They provide critical wildlife habitat and are an important component of both terrestrial and aquatic ecosystems. The width of riparian areas is influenced by many factors including human disturbance, hydrology, and climate. Because riparian areas are highly sensitive to human disturbances, it is important to manage them with respect to surrounding areas and their land use.
Riparian areas can be impacted by human activities including:
Farming

Grazing

Road building

Development

Recreation
Best Management Practices
Best management practices (BMPs) for riparian areas focus on maintaining or creating a sufficient riparian area width for the adjacent land use and management of stormwater runoff. BMPs should also address land uses which impact the health and composition of riparian vegetation.
The Flowline data, Wetlands data, and Waterbody data can be used to identify riparian areas in the county.
Riparian areas should be managed to protect vegetation characteristic of the area. When water flow is controlled (such as by a dam) the flow should be managed for vegetation success and a healthy ecosystem. The management of stormwater from developed areas and agricultural operations is an important factor in maintaining riparian areas.  Runoff containing excess sediment and nutrients, high salinity levels, heavy metals, and petroleum products can damage sensitive riparian areas.  It is often possible to treat these pollutants through the use of engineered structures such as constructed vegetated swales.
Livestock grazing and watering can significantly impact riparian vegetation through trampling, soil compaction, and consumption of vegetation. Proper management of livestock in these sensitive areas will prevent the most serious impacts.[1]
Weed control is an important component of riparian area management. Riparian areas are often disturbed by flooding, human land users, and other events and become prime locations for the establishment of invasive and noxious weeds.  Management includes good detection procedures, weed control and treatment, and proper land use protocols.[2]
Conservation and restoration efforts need to take into consideration factors like hydrology, floodplain, and adjacent land use. Restoration design of riparian areas should follow a protocol that accounts for stream hydrology, soil characteristics, vegetation, adjacent land use, recreation, and other influences.[3] Stream or river modifications may require a  permit. The Utah Division of Water Rights processes permits in conjunction with the US Army Corps of Engineers.

Economic Considerations
Economic benefits of riparian areas are difficult to quantify. They are intertwined with nonmarket ecosystem services like clean water and wildlife habitat.[4,5] Engineered water treatment plants are extremely expensive and often passive pre or post water treatment using passive bioengineering techniques including riparian area management can significantly reduce water treatment costs.

Impact Considerations
Because riparian areas are the result of overlapping aquatic and terrestrial ecosystems factors affecting waterbodies and adjacent non-riparian uplands have the most direct impacts on riparian areas.
The Utah Watershed Restoration Initiative data shows projects (Proposed, Current, Completed, Pending) that may affect riparian areas.

Data Download
Data Name
Data Explanation
Publication Date
Spatial Accuracy
Contact
Utah Watershed Restoration Initiative (UWRI)

Terrestrial and aquatic/riparian treatment areas associated with the UWRI, includes proposed, active, pending, and completed projects
Live Data
1:24,000
Utah's Watershed Restoration Initiative
USGS National Hydrography Dataset (NHD)
(AGRC) , (USGS) , (USGS)
Lakes, Rivers, Streams, & Springs
AGRC download 1/18/2013;
USGS download 10/15/2015;
National Map Service Live Data;

1:24,000
United States Geological Survey
National Wetlands Inventory (NWI)
(AGRC) , (USFWS)
,
Use to identify location and type of wetlands
Metadata


USFWS data download
10/2015;
USGS web mapper is live data;
Map Service date is 10/2015.

1:50,000
Primary Source: Utah Geological Survey or US Fish and Wildlife Service's National Wetland Inventory

AGRC data provider Utah Geological Survey
References
Bellows, Barbara. 2003. Managed Grazing in Riparian Areas. Appropriate Technology Transfer for Rural Areas.
Sheley et.al. 1995. Managing Riparian Weeds. Rangelands 17(2).
Johnson, Craig, and Susan Buffler. 2008. Riparian Buffer Design Guidelines For Water Quality And Wildlife Habitat Functions On Agricultural Landscapes In The Intermountain West. USDA
US Department of Agriculture Forest Service. 2009. Social and Economic Value of Riparian Environments.
Utah Department of Environmental Quality, Division of Water Quality. 2013. Nutrient Pollution in Utah Fact Sheet.